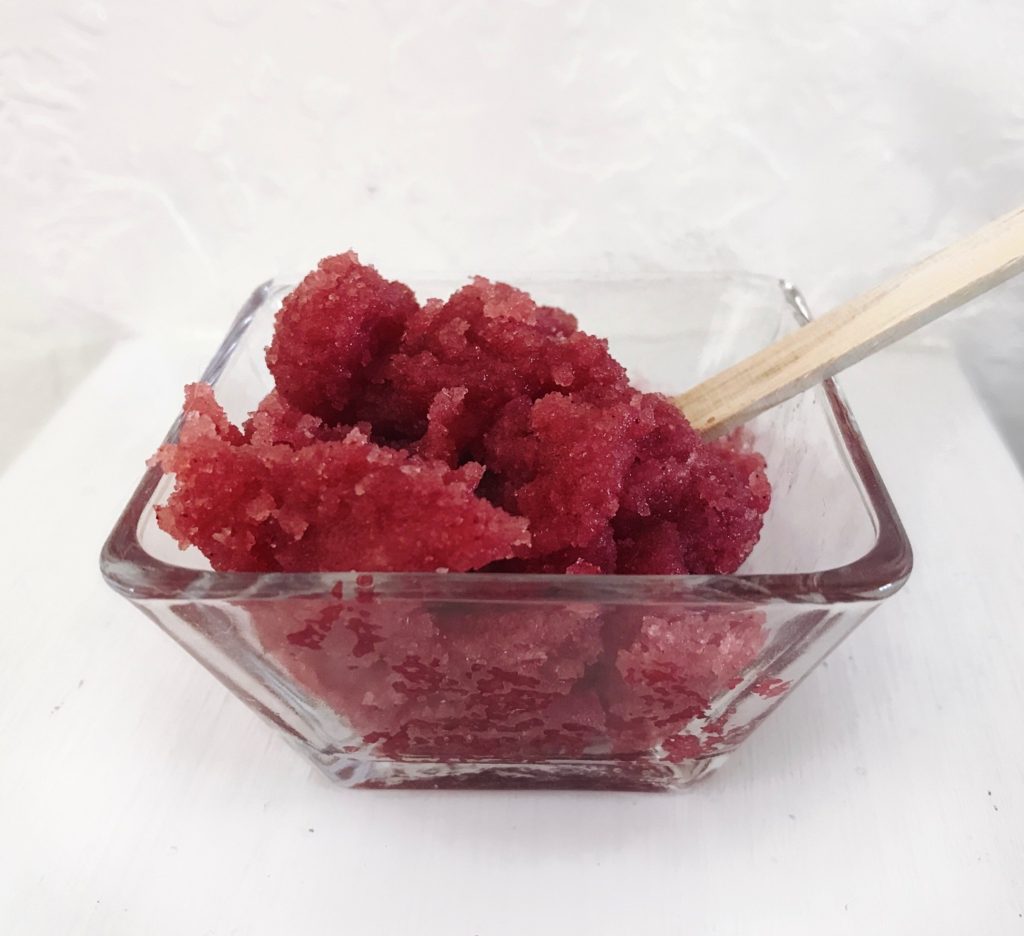 SWEET RED VALENTINE'S DAY BODY SCRUB
If you are looking for the perfect body scrub for Valentine's Day, with completely natural ingredients, you have come to the right place! This beautifully rich red colored, natural body scrub smells and works beautifully! This scrub has a nice, fresh fruity scent. The deep red color of this body scrub is created naturally by using beet root powder*. Additionally, beets are highly beneficial for your skin.
BEETS IN SKINCARE
Beets can stimulate cell reproduction and repair. They are also high in antioxidants, which help to protect the skin from damage from our environment. Topically, beets are most commonly known to keep the skin hydrated and glowing. This combination of hydration and repair is perfect for a sweet smelling body scrub!
ALOE VERA
Aloe Vera has been used in skin care for centuries. It has a moisturizing emollient effect on the skin which is why I love that many of my professional skin care products are aloe based. In addition to skin care, Aloe Vera can be used as a topical remedy for bites, burns, infections, inflammation and swelling.
OVERALL BENEFITS
Using a body scrub will help slough off dead skin cells and make your skin feel soft and smooth. Having nourishing, natural ingredients in a scrub will help replenish the skin and give it a glowing complexion. Valentine's Day is the perfect time to try out a sweet smelling body scrub. Many of us like to enjoy a romantic evening with a loved one. Having glowing skin is an added bonus. Try out a few Valentine's Day makeup tips as well and feel amazing.
KEEP IT OR SHARE IT
This recipe makes a great gift for someone you love on Valentine's Day. The recipe below is for two 8 oz. scrubs. Make one for yourself and share the other!
SWEET RED VALENTINE'S DAY BODY SCRUB
Ingredients
1 1/2 Cups Fine Pure Cane Sugar
1/2 Cup Fine Pink Himalayan Sea Salt
2 Tablespoons Aloe Vera Juice
1/2 Tablespoon Beet Root Powder
2 Teaspoons Almond Oil
1/2 Teaspoon Almond Extract
10 Drops Vanilla Essential Oil
10 Drops Grapefruit Essential Oil
Instructions
Combine sugar and salt and mix well.
Add remaining ingredients.
Pour into two 8 oz containers with a sealable lid.
Use your body scrub rather quickly since it contains all natural ingredients.
http://greeneyedgrace.com/beauty-diy-sweet-red-valentines-day-body-scrub/
Recipe provided by Green Eyed Grace at www.greeneyedgrace.com
* I purchase my beet root powder either at a natural grocery store or online at www.mountainroseherbs.com. You can also add beet root powder to shakes and smoothies for glowing skin.
HAVE A WONDERFUL VALENTINE'S DAY ♥