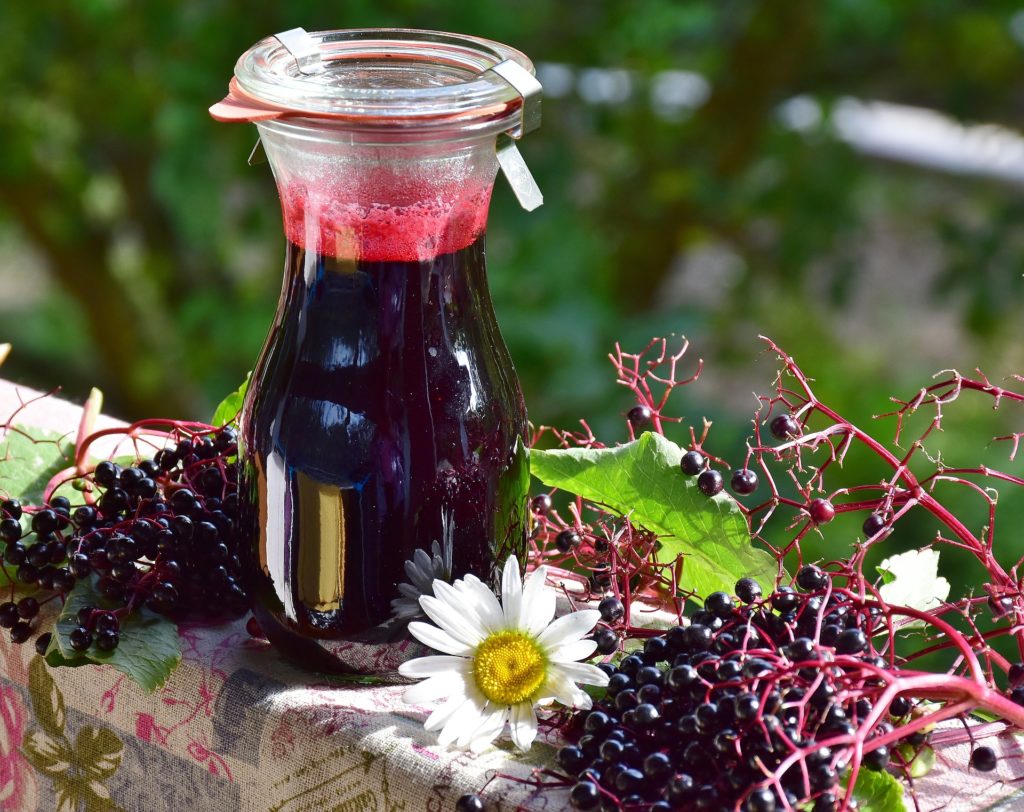 DIY COUGH SYRUP
The weather is getting warmer.  The flowers are beginning to bloom. However, the blooming plants and flowers can bring on unwanted allergies. Many times, the change in temperature bring on springtime colds. It is a good time to have a special family elderberry cough syrup recipe.
BENEFITS OF ELDERBERRY
Elderberry is an ancient berry used for centuries. A natural remedy used for various ailments. It is known as a powerful antioxidant that can be used to combat allergies, colds and flu. Elderberry is high in Vitamins A, B and C and can boost the immune system. Elderberry is considered to have anti-inflammatory and anti-viral properties. These properties can speed up the recovery of colds and flu.
These beautiful dark berries have been used by Native Americans to calm upset stomach, constipation and gas. Elderberry can be detoxifying and healing for the body. It is also a wonderful option for cough syrup.
MAKE YOUR OWN
I have made my own family cough syrup for many years. Many of the drugstore cough syrups are full of harmful or unnecessary ingredients. Making your own is easy. If you want to try to make your own cough syrup, this one is my favorite:
DIY ELDERBERRY COUGH SYRUP
Ingredients
1 T Elderberry Fruit Extract* (I use Simple Truth)
1 tsp Raw Unfiltered Local Honey
1 tsp Pure Grape Juice Or 100% Coconut Water
Instructions
Mix well, until honey is completely dissolved.
Pour into a 1 oz glass dropper bottle.
If you do not have a dropper bottle, then use a sealable glass container.
You can store in the refrigerator for a couple weeks.
http://greeneyedgrace.com/diy-elderberry-cough-syrup/
Recipe provided by Green Eyed Grace at www.greeneyedgrace.com
DIRECTIONS
Use about 1/2 teaspoon of cough syrup every 4 hours. I do not recommend using for children under 2 years. If your child has a fever or consistent cough, consult with your physician. Do not use for extended periods of time.
I hope your family loves this recipe as much as we do!
*It is important to use an elderberry extract intended for health purposes. I use Simple Truth but I am sure there are other great brands out there.  Elderberry can be considered poisonous if a strange variety is used or if it is not processed properly.