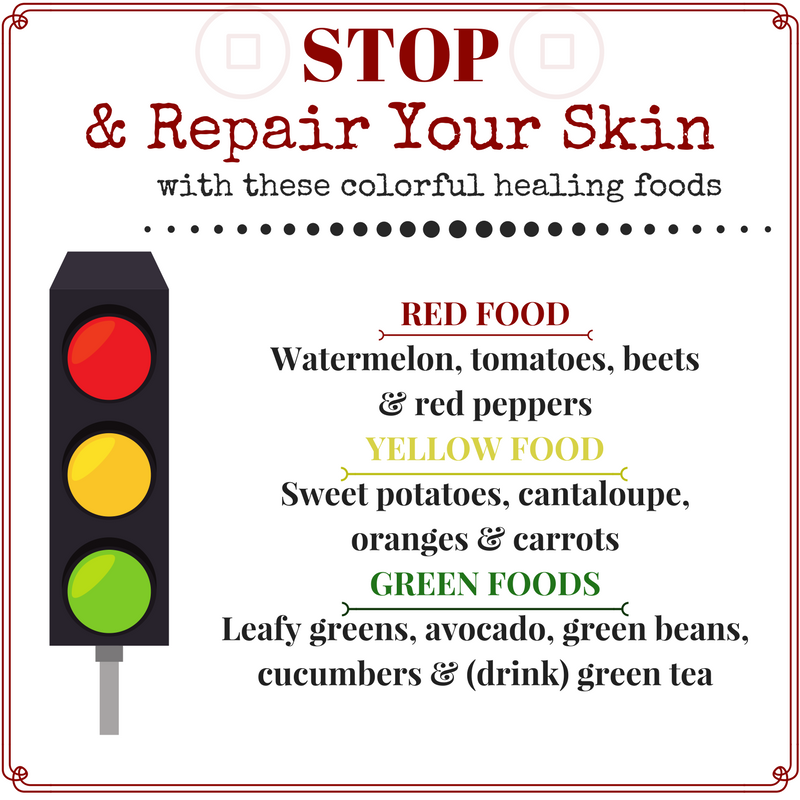 STOP (LIGHT) – AN EASY WAY TO REPAIR YOUR SKIN
If you suffer from a breakout and want to repair your skin quickly follow the Stoplight Strategy. This strategy is also helpful if you want fabulous skin for an upcoming event. Our skin is a direct reflection of what happens inside our bodies. I love using these three tips when I get random breakouts. It is an easy reminder and helps me get back on track.
1. RED FOODS
Red foods are the most important. Many red fruits and vegetables are foods high in vitamins and lycopene. Lycopene is a bright red carotene that is found in tomatoes, red carrots, watermelon, goji berries and papaya. Beets and red peppers are also beneficial as they are high in necessary vitamins. Red fruits and vegetables have powerful antioxidant and anti-inflammatory properties. Lycopene is helpful at minimizing breakouts and healing the skin.
2. YELLOW/ORANGE FOODS
Yellow fruits and vegetables are often high in Vitamin C, which is helpful for skin repair and cell turnover. Vitamin C can fight off free radicals inside the body. This vitamin is also helpful at giving the skin a beautiful glow. These foods include sweet potatoes, cantaloupe, oranges, lemons, tangerines, pumpkin and carrots.
3. GREEN FOODS
We always hear the saying 'eat your greens'. This is wise advice! Green vegetables are great at detoxing the body and boosting the immune system. Both are highly important when dealing with breakouts. Many breakouts are caused by what is happening in our gut. If we have been eating too much processed foods or sweets, our body may need a little detox. Green foods that help with detox are leafy green vegetables, avocado, green beans and cucumbers. I also love drinking green tea to aid detox. Green tea is full of antioxidants, which can help the body repair itself.
THINGS TO AVOID
Also, try to eliminate sugar and decrease dairy intake. Both sugar and dairy can be breakout triggers for many teens and adults. Another great way to improve your skin's appearance quickly is to drink more water. You will see rapid improvement after a breakout and an overall healthier appearance by doubling your water intake.
A quick way to begin this strategy is with a Beauty Smoothie! Try out this recipe: Delicious Beauty Smoothie.