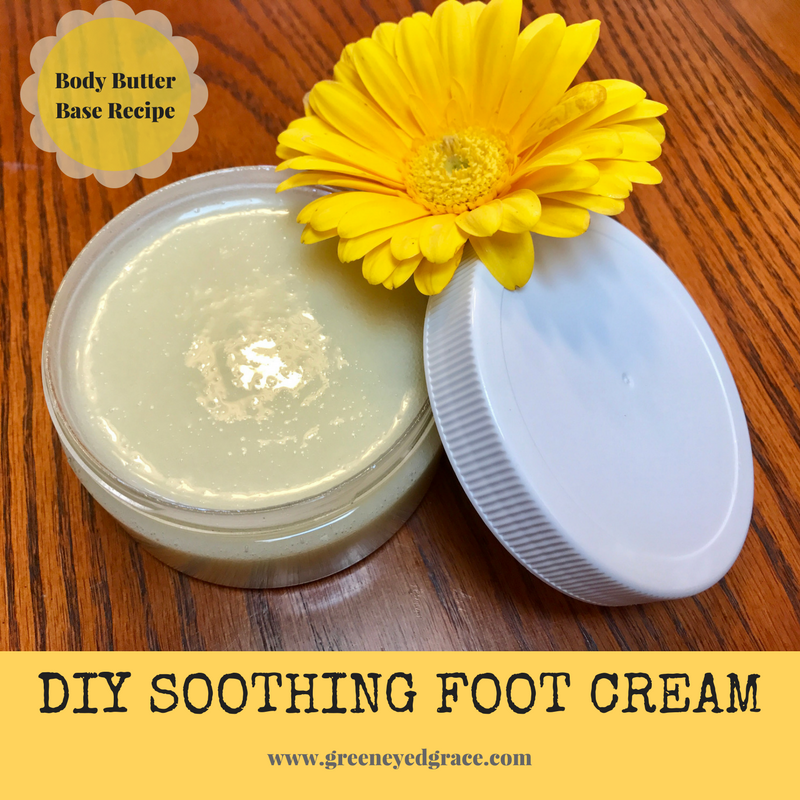 I like to keep my feet soft all year round so I began using different foot creams. This recipe is actually a body butter recipe that I have turned into a DIY foot cream because I loved the ingredients. The essential oils in it provide a bit of a cooling effect and can also help smooth out calluses. I only use this foot cream AT NIGHT after I am in bed because it can be a bit greasy.
In the morning your feet will be nice and soft. Here is a quick video for those of you who are more of a visual type learner, like myself.
SOOTHING FOOT CREAM INGREDIENTS:
1/4 Cup Shea Butter
1/2 Cup Grapeseed Oil
1/4 Cup Almond Oil
2 Tablespoon Beeswax
1 Tablespoon Glycerin
1/4 Teaspoon Xanthan Gum
12 drops Peppermint Essential Oil
10 Lemon Essential Oil
8 drops Tea Tree Essential Oil
INSTRUCTIONS:
Combine the Shea butter with the beeswax in a small saucepan and melt over low heat.
Remove from heat and add all other ingredients except xanthan gum and essential oils. Stir together and then add in the xanthan gum and essential oils.
Whip together with an electric mixer removing as many lumps as possible. The mixture should be a pretty, creamy, light yellow color.
Pour into desired container and let cool for at least 4 hours. I like to let mine sit overnight. *Do not seal your container until it has completely cooled.*
This is a natural product so it may begin to separate after several weeks. So use it up! I hope you love it as much as I do!