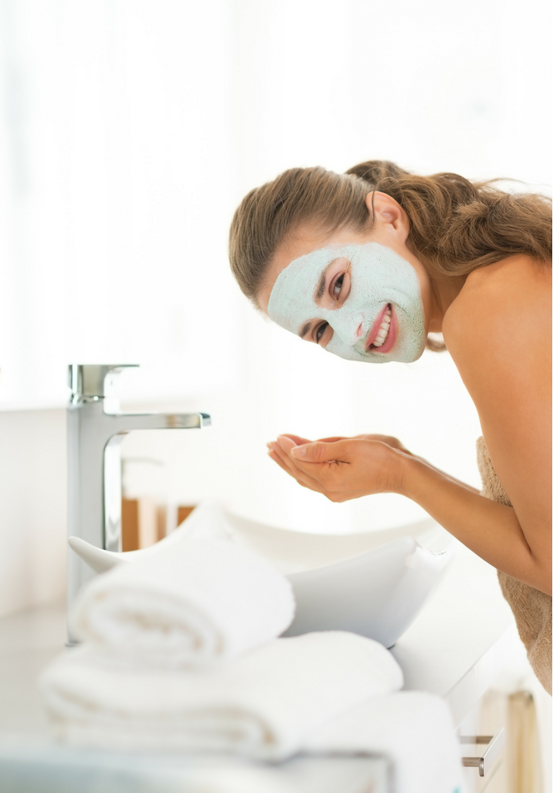 DO-IT-YOURSELF (DIY) FACIAL MASKS
As many of you already know, I LOVE making DIY facial masks. They are so easy to make AND effective. Not only that but you can save a lot of money by making masks at home. Often times, fresh ingredients are even more effective at treating the skin than a professional mask. Here are my TOP 10 FAVORITE ingredients!
1. Pumpkin
Pumpkin is packed with Vitamins A & C. These two vitamins are important at giving the skin a more youthful appearance, minimizing fine lines and bringing more circulation to the surface. Pumpkin has natural enzymes that stimulate the skin and naturally exfoliate. It is packed with antioxidants which can help protect the skin's surface. When using fresh pumpkin, it is important to use the 'meat' of the pumpkin. This is where you will find the natural enzymes and nutrients. Pumpkin will also hydrate and soften the skin.
2. Clay
Personally I love natural bentonite clay when I want a clay mask for my skin. Clay masks are great at getting deeper into the pores. They are a great choice for oily and acne prone skin. Bentonite clay is able to draw out impurities from the pores. Additionally, clay masks can really softens skin.
Ingredients
Equal Parts:
Bentonite Clay Powder (sold at local health food stores)
Raw Apple Cider Vinegar
Should be a thick mud consistency
Instructions
Apply about a 1/8 - 1/4 inch layer all over face, avoiding eyes.
Do NOT allow the mask to completely harden. Wait until it has started to dry but is still sticky. This means it has began to pull impurities out of the skin. If you let it get too dry you risk dehydrating the skin, which can cause an imbalance.
Rinse with warm water and apply your usual facial moisturizer.
Slight redness may temporarily occur.
http://greeneyedgrace.com/10-best-ingredients-diy-facial-masks/
Recipe provided by Green Eyed Grace at www.greeneyedgrace.com
3. Honey
I cannot say enough amazing things about honey. You can actually apply honey directly to a breakout to heal it faster. Honey firms the skin and smoothes fine lines. It can also relieve dry skin. My favorite honey perk is that it balances the skin and clears up breakouts.
4. Yogurt
Yogurt is a surprising ingredient that is highly effective in skin care. It contains lactic acid which helps even out skin tone. When applied directly to the skin, it sloughs off dead skin cells, which assist with skin cell turnover. This creamy snack is naturally brightening and exfoliating for the skin.
5. Sugar
Sugar is not very healthy to eat but in skin care it can be beneficial. Both white and brown sugar are excellent natural exfoliants.  Using sugar in a scrub or mask smooths and softens the skin. This natural exfoliant will give your face a nice glow.
6. Avocado
Avocado is great for the skin and the body. It makes a great moisturizer. Avos are high in Vitamin B and potassium. They can be very nourishing for the skin. Eating avocado and applying it directly to your skin will give you glowing skin.
7. Pomegranate
Pomegranate is another fruit that is great for the body, inside and out. This bright fruit is high in antioxidants, which help protect the skin. They are also rich in Vitamin C which has anti-aging properties.
8. Banana
Bananas are rich in vitamins and minerals. However, what I love best about banana is that it is really great for all skin types. It is gentle enough for sensitive skin but effective enough for oily skin. Bananas soften the skin while putting nourishment back into the skin. For that reason, they can be very effective in moisturizing dry skin.
9. Oats/Oatmeal
Oats are perfect for calming irritated skin. Known as having anti-inflammatory properties, oats can relieve a variety of skin ailments. An oatmeal mask can be calming for the skin, while hydrating at the same time. A great option for sensitive skin.
10. Pineapple
Pineapple is high in Vitamin C and bromelain. Bomelain is an enzyme that can soften skin and reduce inflammation. One of my favorite masks in the spa is the tropical pineapple mask. It naturally exfoliates the skin helping skin cells regenerate. Pineapple is also perfect for brightening and evening out skin tone.
HAVE FUN
Have fun making your own skin care masks. You can mix different ones together and come up with your own concoction. There are many DIY masks recipes on this website to play with or try creating your own. Many ingredients can be mixed with honey to make a paste and applied to skin. Depending on what your skin needs. Try a few of these out and see how amazing your skin feels!
You can also add a few drops of essential oils – Lavender, is wonderful of course as it promotes healing and Frankincense has amazing anti-aging properties.
A Side Note About Mango
Mango tends to be a popular ingredient in skin care. However, I advise that you avoid using mango when making your own skin care masks. They are in the poison ivy family and are not the best choice for DIY masks. Stick with the ingredients that are gentle yet effective.