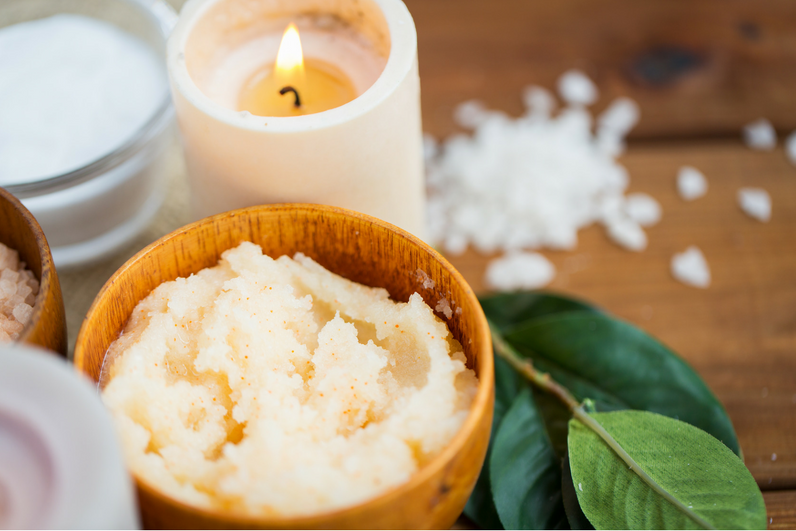 Making your own sugar scrubs can be a little intimidating but it is really no trouble at all. Once you get used to making your own, it is so simple. The Green Eyed Grace sugar scrubs that are sold at my spa are my most popular and most purchased product. Granted the ingredients are a little different than this DIY recipe, but this recipe is still amazing.
WHY MAKE YOUR OWN SUGAR SCRUBS?
Creating your own sugar scrubs is much cheaper than buying a pre-made sugar scrub in the store. But more importantly you can control the ingredients so that they are pure, natural or even organic. Using a sugar scrub will give your skin a beautiful glow because it will help slough off dead skin cells. It can also help with breakouts.
Sugar makes an excellent natural exfoliant. I like to use pure cane sugar as I feel it is a little more natural. Honey is a natural remedy for breakouts because it has healing properties and is able to draw out bacteria from the skin.
DIY Coconut-Lemon Face & Body Scrub
Ingredients
1 cup pure white sugar
1 ½ tablespoons coconut oil
1 tablespoon raw honey
2 tablespoons 100% lemon juice
Instructions
Combine all ingredients. The mixture should be a nice thick paste.
Store in a plastic container with a lid. I keep mine in the shower for convenience.
http://greeneyedgrace.com/diy-coconut-lemon-sugar-scrub/
Recipe provided by Green Eyed Grace at www.greeneyedgrace.com
HOW TO USE
Use your scrub on the face and body 2-3 times a week to exfoliate the skin. Ironically, it is not best to scrub it on your skin. Gently roll the sugar scrub over the skin. For breakouts or extra exfoliation, let the scrub sit on the skin for several minutes in the shower before rinsing off. The ingredients will have more time to soak into the skin.
I recommend throwing out any unused sugar scrub after about a week of making it. As with any completely natural product, it is important to use it up quickly, while it is still fresh. Enjoy your beautiful glow!