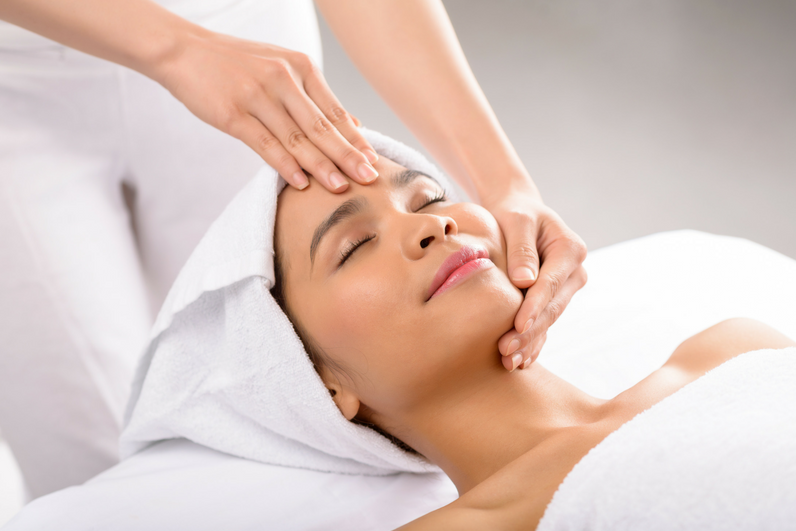 THE BENEFITS OF FACIAL MASSAGE
Just like the body, the face can use a little love from time to time. There are more benefits to facial massage than you may think. Most of us love the relaxing atmosphere of a spa. It is a place to unwind and receive beneficial treatments, such as facials. Most of us expect to leave the spa with a glowing complexion after such treatments. However, facials can also help relieve stress and keep the skin youthful. Here are a few of the many benefits to facial massage:
Tension Relief
When your face and body are tense it can cause wrinkles. Massage of the neck, shoulders and décolleté can ease tension. Our bodies hold a lot of stress in the shoulder and neck area. Often an esthetician will give extra attention to these areas to help relieve tension and help the client feel calm.
Happiness Booster
Massage can lift the spirits. Calming music, aromatherapy and touch have a way of healing a person from the outside in. Many of us have a hard time taking a 'time-out' from work, family, social media and the stress of life. Receiving a relaxing massage or facial forces us to shut everything off and enjoy that moment.
Increased Circulation
Massage and movement can increase blood flow and circulation. Massaging the skin will warm up the color of your skin, which can give you a healthy glow. Many of us lose the natural brightness in our skin as we age. Illness and high stress can also cause our skin to look flat. A facial massage will help bring blood to the surface of the skin giving the skin a healthier glow.
Younger Looking Skin
Facial treatments will slough off dead skin cells. Exfoliating will help expose fresh skin cells and help your skin repair itself. Receiving a facial treatment will also minimize fine lines and wrinkles giving the complexion a more youthful appearance. Massage stimulates the muscles and facial tissues as discussed above with increased circulation.
Clearing Congestion
Facial massage stimulates the sinuses and can relieve congestion and allergies. Many estheticians offer steam during a facial treatment. The relaxing steam and massage can breakup stagnant congestion within the sinuses. The result can be better breathing and sinus pressure relief.
Detox
Stimulating the lymph system can improve movement of fluid. During a facial massage many points of the face and décolleté that contain lymph nodes are stimulated. Gentle stimulation of lymph nodes can assist with detox of unwanted fluid. There are many lymph nodes along the jawline and chin area that can benefit from stimulation.
Headache Relief
Massaging the temples and tight muscles on the face, shoulders and neck can help relieve headaches. Many headache sufferers also have TMJ. TMJ stands for temporomandibular joints. The temporomandibular joint is the joint that connects the jaw to the temporal bones of the skull. This area can become extremely tight and often cause pain in the jaw area. TMJ is often caused from jaw clenching (sometimes caused by stress) or talking for extended periods of time. TMJ is known to cause headaches and sometimes neck pain. Regular massage to relax the muscles is extremely beneficial. Massage can relieve tension in the jaw and therefore relieve headaches.
Massage and facial treatments, given by an experienced professional, should leave you feeling calmer and refreshed. It can be difficult to find the right professional for your needs, but it is well worth the effort. Make time for yourself to receive a professional massage or facial treatment on a regular basis and receive these benefits!