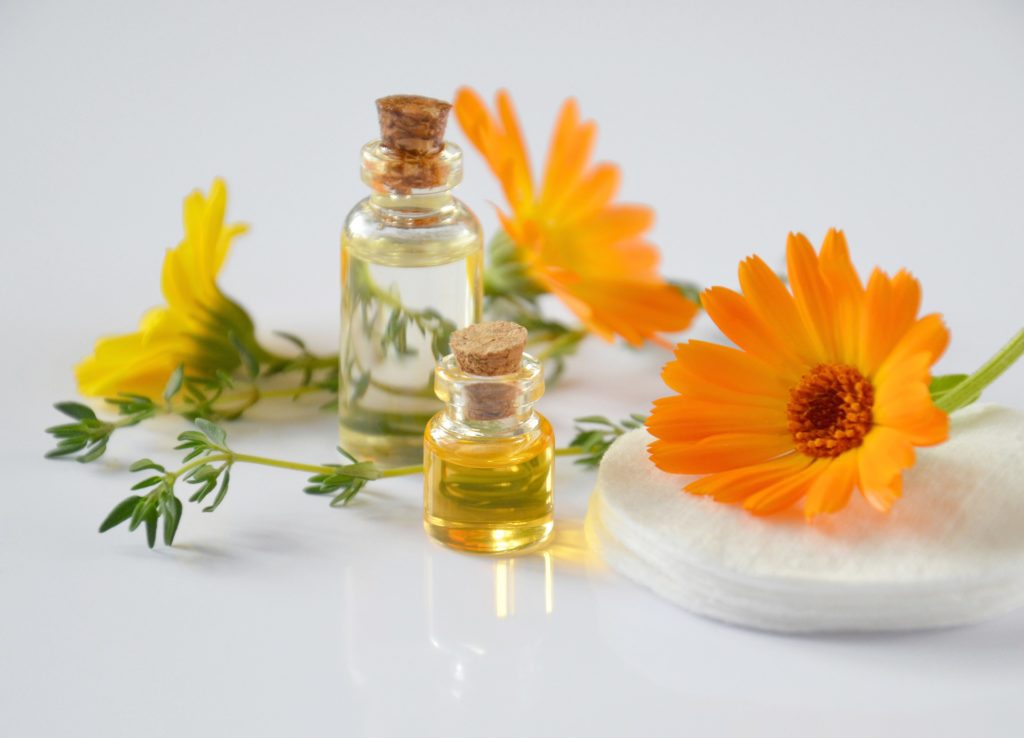 PRODUCT QUALITY
I have recently been wrapped up in the history of lotion. I wanted to understand how lotion was originally made and how it has changed over time. While looking back at the history of our products, I could not help but feel we have lost the integrity of what our products were intended to do. Although, harmful ingredients are not a new thing.
In Ancient Rome, women used white lead (or cerussa) to lighten their faces. The lead was highly toxic to their skin and bodies. Even though, many Romans knew the effects that lead had on their body, they insisted on using the white face powder. Having a lightened complexion was more important than the consequences. This sounds a little like what is happening with our products today.
Although there were a few exceptions, most remedies in the past were very natural. Oils, herbs, honey and even milk were widely used by women (and men) for vanity purposes. Milk softened the skin. Herbal remedies brightened, calmed or nourished the skin. Most products used by women, contained natural and healing ingredients. However, over time, more and more harmful ingredients have appeared.
PONDS COLD CREAM
I believe that most companies start out with good intentions. However, eventually they begin to turn to the best 'quick fix' products for the best revenue. For example, Ponds Cold Cream started out as a medicine company in the mid-1800s. Their original beauty product was Ponds Extract, which today would have been considered a nice toner for our skin. However they were using it to treat all kinds of skin issues, mostly scrapes and minor injuries. In 1904 they began selling cold cream and it evolved from there. Ponds ingredients have changed over they years. Their current ingredients are not the most beneficial for your skin or body. However, they are certainly not the worst out there!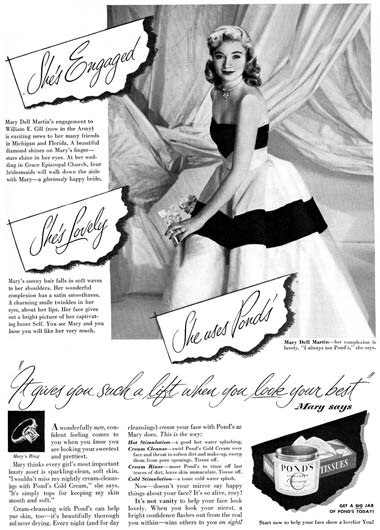 Ponds may have been the company that started the 'facial system' by insisting that we ladies need two creams. This is funny since now we all have about 20 different products on our face! My facial system now consists of cleanser, toner, moisturizer, serums, eye cream and occasionally a facial mask. It was much simpler in the past!
ELIZABETH ARDEN
Elizabeth Arden was popular in the early 1900s. Ms. Arden also had a great deal to do with facial systems. Well-known for teaching proper make-up application, Elizabeth was ahead of her time with her scientific formulas for cosmetics. She prided herself on using the products in a lady-like fashion and maintaining a classy appearance. Elizabeth Arden was successful in maintaining that appearance. Her company has maintained a highly influential presence to this day.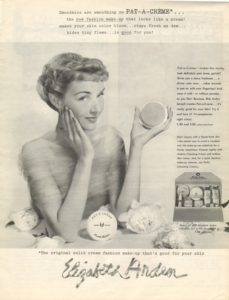 CURRENT DAY INGREDIENTS
One of my absolute favorite lotions was Vaseline Intensive Care before we switched to all natural products. I used this lotion for years. It smelled so wonderful and felt nice on the skin. When I switched to a natural lifestyle, I was forced to look at the ingredients. I cannot believe how many harmful ingredients are in this lotion. My mother also used this lotion when I was a small child. I do not know what the original ingredients were but I cannot imagine they were as complex as they are today.
Vaseline intensive care lotion INGREDIENTS:
Water (aqua), Glycerin, Stearic Acid, Isopropyl Myristate, Mineral Oil, Glyceryl Stearate, Glycol Stearate, Dimethicone, Peg-100 Stearate, Petrolatum, Cetyl Alcohol, Tapioca Starch, Phenoxyethanol, Magnesium Aluminum Silicate, Methylparaben, Fragrance (parfum), Acrylates/c10-30 Alkyl Acrylate Crosspolymer, Propylparaben, Disodium Edta, Xanthan Gum, Stearamide Amp, Dihydroxypropyltrimonium Chloride, Hydroxyethyl Urea, Propylene Glycol, Avena Sativa (oat) Straw Extract, Titanium Dioxide 
MY MOTTO
My motto is that if you cannot understand the ingredients it is probably not good for your skin. Often times there are about 20 ingredients listed and most of them were made in a laboratory, with a name we cannot even pronounce. I like to keep it simple. You should be able to understand each one. Although lotion and personal care products have changed so much over this short amount of time, I do believe we can get back to quality products.  We should take pride in our products and appreciate them as a luxury.
We have a ways to go before we see more natural products on the shelves than what is currently offered. I plan to be part of that change! Feel free to shop the professional line or learn how to make your own products. There are many DIY recipes to look at on this website. Just remember to keep it classy and read your labels of course.
XO
Bethel