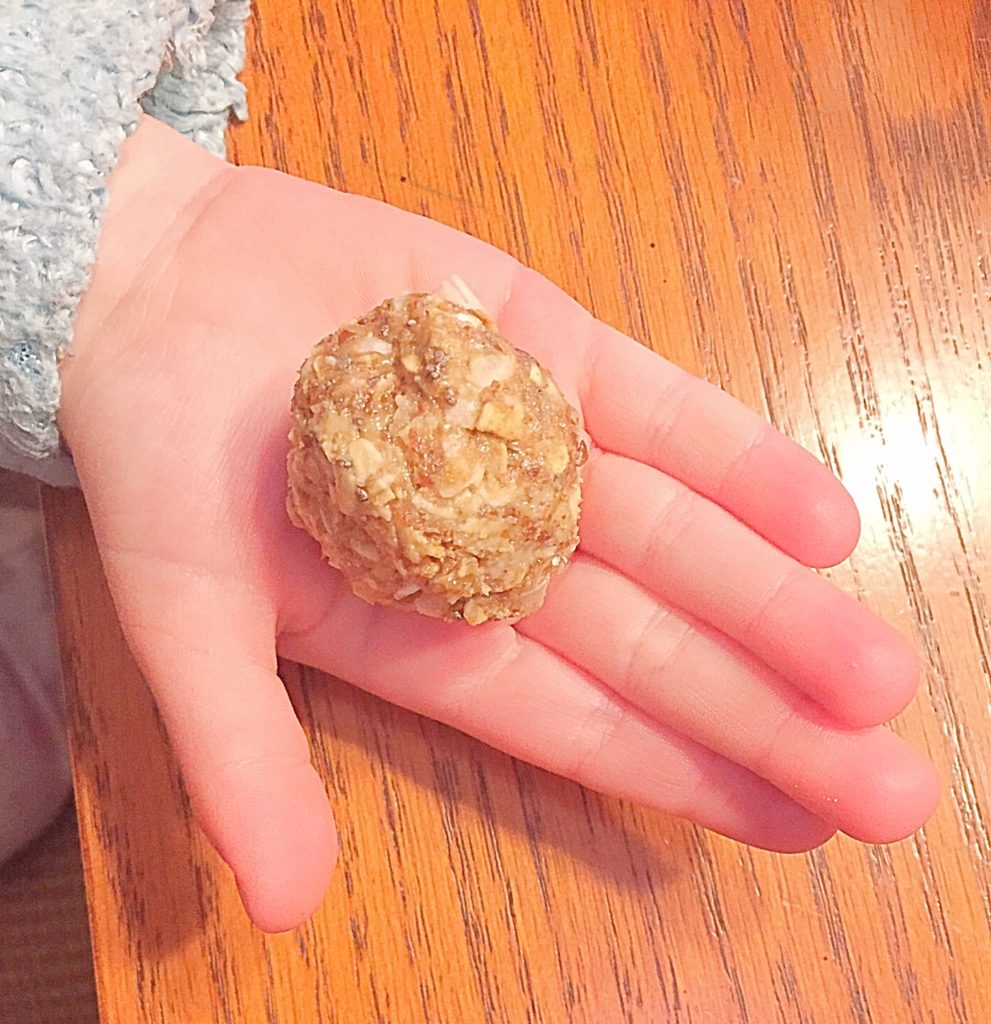 POWER BALLS FOR KIDS (AND ADULTS)
Finding nutritious foods that my kids are willing to eat is very challenging. I started making these Power Balls (a recipe inspired by my sister) for my husband when he went on long bike rides. I bribed the kids to take a bite. They were hesitant but wanted the prize. Surprisingly, they asked for two more after that! Now I have to keep a steady supply of these in the fridge for my entire family.
WHY POWER BALLS?
Power Balls boost energy and are full of wholesome ingredients. They are an easy, nutritious snack and the kids love them. They are very convenient too because kids can go to the fridge and grab a couple. Also great for camping, hiking and biking!!
POWER BALLS ~ Bite Size (Natural) Energy Snacks That Kids Love
Ingredients
1 Cup Quick Oats
2/3 Unsweetened Toasted Coconut
1/2 Cup Organic Creamy Peanut Butter*
1/2 Cup Organic Ground Flaxseed
1/3 Cup Raw Honey
1 Tsp Pure Vanilla
1/4 Cup Organic Tahini (Optional)
1 Tbsp Organic Chia Seeds (Optional)
1/4 - 1/2 Cup Chocolate Chips (Optional)
Instructions
Combine all ingredients except the chocolate chips.
Should be a thick paste consistency. If the mixture is too dry add a little more peanut butter and/or honey.
Then stir in chocolate chips.
Squish into small/bite size balls and put in a seal-able container.
Refrigerate immediately after and keep in fridge.
http://greeneyedgrace.com/power-balls-for-kids/
Recipe provided by Green Eyed Grace at www.greeneyedgrace.com
When refrigerated, these bite sized snacks should last about a week. *If anyone has a nut allergy or if you are not able to bring peanuts to school (like us), you can substitute the peanut butter with sunbutter and/or almond butter or other butters that work for your family. I like to mix sunbutter and almond butter together, it tastes great.  I think the recipe tastes best with ALL the ingredients but you can remove the 'optional' ingredients if you prefer.